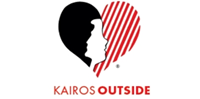 In the late '80s a chaplain at San Quentin Prison sensed that incarcerated KAIROS participants were now open to reuniting with their families. Jo Chapman and her husband, Tom, were among those regular volunteers of the San Quentin KAIROS Inside program. When the chaplain mentioned how much he thought that the families of prisoners needed a spiritual support community of their own the seed was sown for KAIROS Outside. In April, 1990, Jo Chapman founded KAIROS Outside. It became the second of the KAIROS programs.
KAIROS Outside is an ecumenical ministry for women who have been affected by the imprisonment of a loved one or who have been incarcerated themselves, where they can learn how to cope with the incarceration. KAIROS Outside is a little different from KAIROS Inside. Normally participants have or had a loved one that is incarcerated. Graduates of the KAIROS Inside weekend are given applications to the KAIROS Outside weekend that can be sent to the women in their lives to experience something similar to what they experienced on their inside weekend. In one case, we had an inmate invite eight women loved ones to attend a KAIROS Outside weekend; and they all attended.
KAIROS Outside is a weekend retreat designed to support the female family members of men and women who are or have been incarcerated. Families of the incarcerated often feel alone and without support as though they "do time" right along with their loved ones. The KAIROS Outside weekend provides a safe environment with Christian people and the opportunity to interact with women in similar situations. After the weekend, the women are encouraged to meet regularly in Prayer and Share groups and to attend quarterly or semi-annual reunions.
The goal of KAIROS Outside is to let these women know that there is a Christian community who cares about them and their needs. The weekend is very similar to the KAIROS Inside weekend and is also based on a series of talks by women who have or had an imprisoned loved one. The program is interspersed with music, prayer, fun activities and general pampering. We expect the women in attendance to stay for the entire program. The weekend is Christian in nature, although no religious affiliation is necessary to attend.
Since its inception, thousands of women have participated in KAIROS Outside weekends, which now take place in 24 states and abroad
Important Questions and Answers about KAIROS Outside.
How long is the KAIROS Outside?
The program starts on Friday night at 7:00 p.m. and continues until Sunday afternoon at 4:00 p.m.
How much does KAIROS Outside cost to attend?
There is no cost to the participants. The funds are provided by local Christian communities.
Do I have to be a Christian to come on the weekend?
Not at all. We just ask each woman to come with an open mind to Christian discussions and not to judge the weekend until it is over.
Where do I stay during the weekend?
The weekend is held at a local retreat center. KAIROS Outside provides everything except bedding and personal articles. Dress is casual and comfortable. Transportation can be provided.
How do I attend a weekend?
Simply send a letter or email to obtain information on the next available weekend. KAIROS Outside is held in the Spring and the Fall each year.
For more information on the KAIROS Outside San Diego program, send a letter to
KAIROS Outside of San Diego
P.O. BOX 15900
San Diego, CA 92175